This store requires javascript to be enabled for some features to work correctly.
Birthstone Necklaces and Earrings
Find a meaningful birthday gift among our raw and tumbled birthstone necklaces and birthstone earrings - made to order in our London studio.
Our birthstone jewellery is available in gold plated or sterling silver, with the added option to personalise some pieces with an initial or zodiac disc for that extra special touch.
We also offer a gift service by gift wrapping using beautiful Kinshipped wrapping paper, adding a personalised handwritten note and sending it directly to the recipient.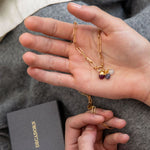 create your own
Family Birthstone Necklace
These necklaces make thoughtful gifts for friends, lovers, mothers, and everyone in between, allowing the wearer to keep loved ones close to their heart.
Create your necklace